Originally published here. 
Mellano & Company, a prominent presence on the landscape of California flower farming for more than 90 years, has recently achieved their BloomCheck certification for their sustainable practices on their farm in northern San Diego County.
For CEO Mike A. Mellano, being BloomCheck-certified helps make his business stronger both inside and out.
From the outside, it differentiates Mellano & Company's flowers in the marketplace and certifies them as sustainably grown based on a set of domestic production standards.
From the inside, it strengthens the company by bringing its practices into sharp focus.
"Pursuing the BloomCheck certification required us to create targets and goals that helped us focus on improvement and be recognized for our commitment to environmental stewardship," Mellano said. "BloomCheck puts us in a position to promote and communicate all the good things we're doing as flower and greens farmers in California."
Flower farmers that become BloomCheck certified have undergone a rigorous third-party audit to ensure they're using best practices for sustainability when it comes to water, air and soil quality; wildlife protection; and social impacts on workers and the community. That means reducing energy use, recycling water, deploying biological pest management and following the law when it comes to state and federal employment rules and regulations.
Protected Harvest, an independent nonprofit organization that certifies the sustainability of agriculture operations, does the on-site auditing to ensure farms are meeting the standards.
"BloomCheck is the gold standard of sustainability claims within the floral industry," shared Kasey Cronquist, administrator of the BloomCheck program. "We're proud to recognize and announce Mellano & Company's certification and the high bar of commitment to best practices and environmental stewardship it represents."
Mellano is the third generation to run the family farm. It covers 375 acres at two locations in Oceanside and Carlsbad and produces more than 30 different items. Its ranunculus operation in Carlsbad is also a popular agri-tourism site.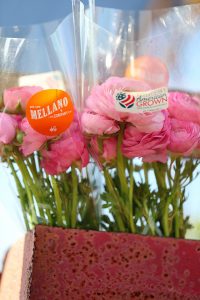 At Mellano & Company, preparing for the BloomCheck certification took about 60 days. It was time well spent, Mellano said.
"I think it sets a path for us so that we can continually improve on what we're doing," he said. "That came through during the application process and all the tests. It pointed out the things we do that we don't really think about.
"All of a sudden you had to think about it, you had to write it down and it creates a path of thinking, 'Well, what can I do to improve on that?' It creates some very useful prioritization and focus."
The BloomCheck process was also a chance for Mellano & Company to publicly demonstrate its commitment to sustainability.
"The engagement and communication with our employees and customers makes this an outward, publicly visible statement that we are committed and passionate about sustainability."