(originally published on http://www.lodiwine.com/blog/ on March 9, 2018)
Covenant finds adventurous grapes for its premium kosher wines in Lodi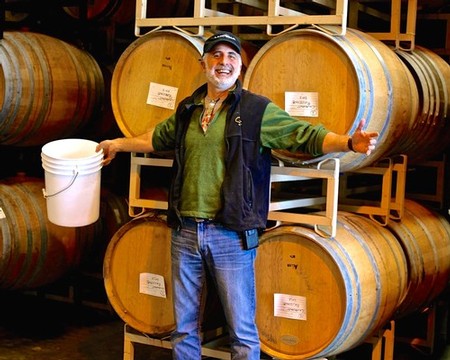 At Covenant Wines in Berkeley late last month (February 2018), winery owner Jeff Morgan laid out his two current Zinfandels, both grown in Lodi, on the table, and issued a challenge to discern the differences. Our notes:
2016 Covenant Wines, Mensch Lodi Zinfandel ($20) – Bright ruby color; forward, briary red cherry aroma with suggestion of red licorice; medium-full bodied with rounded, pliant tannin and an almost pure (i.e. virtually un-oaked) fruit focus in the mouth.
2016 Covenant Wines, Landsman Lodi Zinfandel ($40) – Slightly deeper ruby red and even more luscious plummy/cherry aroma; juicy, plump, fleshy, fruit focused sensations on the palate, bolstered by a meatier texture, although fluid and smoothly rounded in the finish.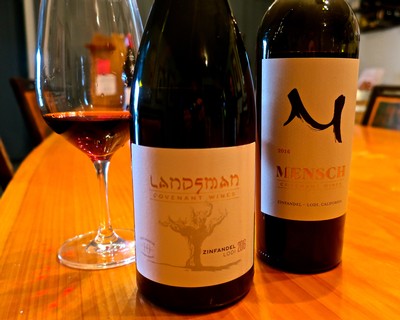 In conclusion, Covenant's Landsman's Zinfandel did indeed seem to merit twice the asking price by dint of perceptively deeper qualities. Yet both wines, according to Morgan, were made from the exact same batch of Zinfandel sourced from Lodi's Mettler Family vineyards on Alpine Rd., picked on the same day, and both fermented on native yeast.
The difference, Morgan shared afterwards, was that the Mensch Zinfandel underwent a process called flash détente: In which grapes are subjected to high heat (about 180° F.) and then instantly cooled in a vacuum chamber; which immediately liquefies color, flavor and phenolic extract in the grape skins, allowing red wine juice to go immediately into barrel for fermentation, without the actual substance of skins or seeds. The result, according to Morgan, is a "super-fruit bomb style of Zinfandel."
The Landsman, on the other hand, was produced by the more conventional method of fermenting red wine, by crushing grapes and fermenting the juice in tanks – complete with the original skins, seeds and partial stems. This produced a richer, more layered Zinfandel, with less of an emphasis on pure grape fruitiness. With tongue in cheek, Morgan turns the old winemaker's maxim upside down: "This is proof wine is made in the winery, not the vineyard."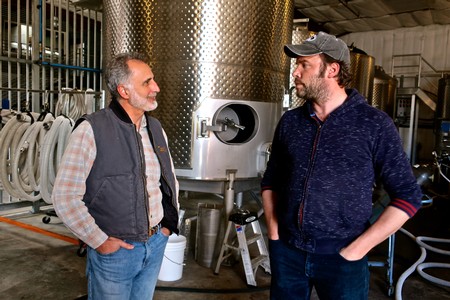 Mr. Morgan, in other words, is not one to fear taking roads less traveled. In fact, the last time we checked in on him was in the spring of 2013, the day before he was headed to Israel to find grapes to produce his first Israeli grown grapes; which he found, in both Galilee and its sub-region Golan Heights (and there is now a Covenant Israel portfolio).
In the meantime Morgan has expanded his portfolio of wines sourced from the Lodi Viticultural Area, and now produces a Chardonnay, Roussanne as well as two different Zinfandels farmed by the Mettlers; while in the process, moving his operation from a leased space in another Napa winery to one of his own, located in a 6th St. warehouse in Berkeley.
The Covenant brands grown in both California and Israel all qualify as "kosher" (i.e. kashrut). A wine's kosher status is determined entirely by who is touching the incoming grapes and wines going through the crushing or pressing, fermentation, aging and bottling process in the winery: everything must be handled exclusively by Sabbath observant Jews (growers supplying Covenant's grapes, such as the Mettlers, are not required to be Jewish).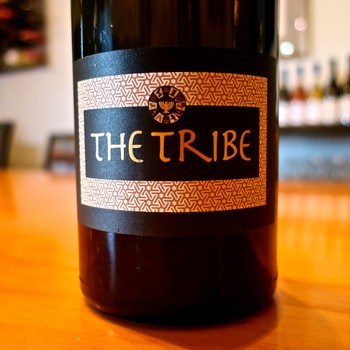 Though the funny thing, according to Morgan, is "the more we grow (Covenant Wines is up to 5,000 cases yearly), the less our wines are sold as kosher products. From the beginning we've always tried to make wines known for their quality, not for being kosher. To a lot of customers, being kosher is irrelevant – it's all about the wine, which is the way we want it. At the same time, wines like ours are a good thing for our Sabbath observant Jewish customers, who are only able to consume kosher wines."
Although Jewish, Morgan himself does not observe the Sabbath religiously – he'll do things like drive a car on Saturdays, eat non-kosher foods and drink non-kosher wines. Therefore Morgan cannot handle the fermenting or aging of wines in his own winery. But for the past 15 years, Morgan has employed a highly skilled winemaker, Jonathan Hajdu, who is very much a Sabbath observing Jew.
Otherwise, a kosher wine is no different than any other wine: its quality is totally dependent upon the quality of grapes and vineyards (not to mention the skill of growers); and given a properly equipped winery, the talent and meticulousness of winemakers. "There is no such thing as a kosher way of making wines," says Morgan, "but you can produce a finer kosher wine by following good winemaking practices, the same way all good wine is made."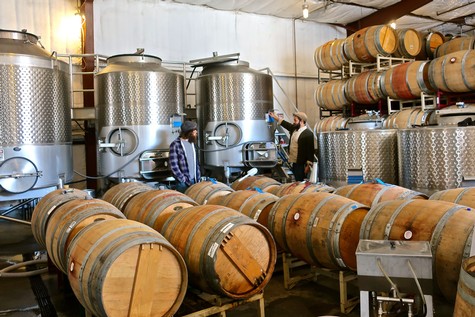 Adds Morgan, "I, myself, learned most of what I know about winemaking from one of my mentors, David Ramey (the widely acclaimed winemaker/owner of Sonoma County's Ramey Wine Cellars). We focus on the most natural expression of fruit that we can get by relying strictly on indigenous yeast fermentation.
"We don't add acid or try to do unnecessary things to our wines.  We focus on natural fruit qualities by aging mostly in neutral French oak. In the end, our Zinfandel is not so much a kosher Zinfandel, but a wine anyone can appreciate as Zinfandel. Which is why we buy fruit from Lodi – it's one of the best places in the world for Zinfandel, and surprisingly, as we have since found, also for white wine grapes like Chardonnay and Roussanne!"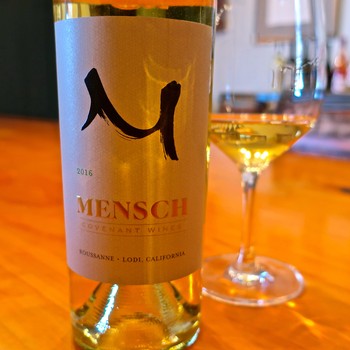 As a matter of fact, Ramey's influenced could be strongly felt in both releases of Covenant white wines, with their strong emphasis on sensual, textural qualities:
2016 Covenant Wines, Mensch Lodi Roussanne ($20) – Honeyed pear aroma with a creamy richness; crisp, medium bodied feel with mingling sensations of mineral and pear-in-creaminess.
2016 Covenant Wines, The Tribe Lodi Chardonnay ($32) – Pale burnished gold color and lush, harmonious nose of fresh cream, citrus flesh and orange peel aromas; fleshy entry in the mouth, becoming fine and silky in the middle, and finishing with a crisp, minerally feel.
As Morgan tell us, "Not a lot of people are aware that Lodi excels in white wine grapes. These wines are fresh, bright, absolutely delicious, and they've already been doing great in restaurants where you would never expect them to do well – like the Italian style A16 in San Francisco, which has been selling the Roussanne.
"What this says is that if it's good wine, people want it – whether it's kosher or not, or whether it comes from Napa or Sonoma, or Lodi or Galilee!"